Wallpaper Removal/Covering
Wallpaper & Popcorn Removal
Patch Pros offers specialty services to older-style homes in need of updates.  If you believe this is a barrier to creating a newer style of home – we take care of it!
Wallpaper Removal
Wallpaper removal is a specialty service that patch pros offer. As your home is being redone, old wallpaper may be annoying and look bad against your new appliances or new room style.
What is wallpaper?
Most wallpaper is made of vinyl paper which is printed on with a design then put into rolls that you take home and with wallpaper paste apply it to your home's walls.
How to know if you have wallpaper?
Wallpaper should be easy to identify by colorful and detailed patterns, it also comes in many homes that haven't been updated since before the early 2000s. To check if your wall has wallpaper see if there are any areas peeling off, if not check corners or the edges of the outlet. If there seems to be paper on top of your drywall then it most definitely is wallpaper.
What is wallpaper removal?
Wallpaper removal is the process of taking down the sheets of paper that have been set up on your walls. This can be a simple process or a time-consuming one depending on the type of wallpaper you have.
More Tools Today
There are many products on the market today that make wallpaper removal less tedious than years ago. This combined with better methods allows for seamless and clean wallpaper removal like never before.
Tried to Remove the wallpaper already?
If the chance is that you've already tried to remove the wallpaper and don't quite like the look after or you have most of the wallpaper taken off, only to find a rough coat of very hard orange and yellow glue left behind on the surface. Don't worry - we've been through this before.
Use a Sealer
In some cases, it's actually best to use a sealer before skimming and painting walls. Before resorting to the use of chemicals in your home, please give us a call.
What happens after the wallpaper is removed?
After the wallpaper is removed, there will most likely still be residue or blotches of leftover glue. Either way, simply painting over it afterward will still show imperfections in the walls. Patch Pros will seal the wall, skim coat it multiple times, and sand for a fresh-looking wall. You won't be able to tell there was wallpaper there previously. Once the wall is smooth, homeowners can't paint as a DIY project or Patch Pros can be hired to paint as well.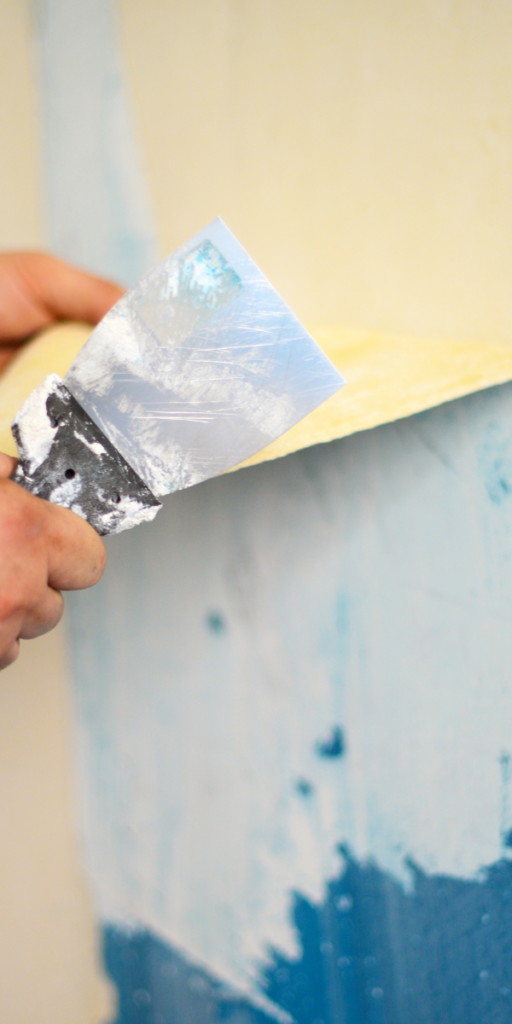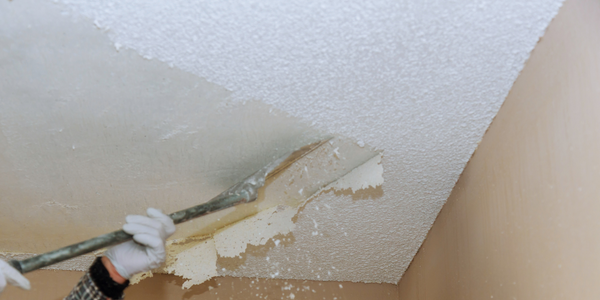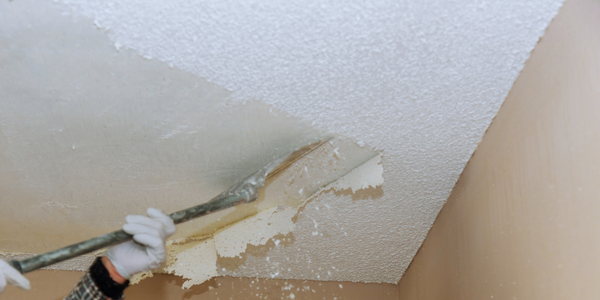 Popcorn Removal
What is a popcorn ceiling?
Popcorn ceilings are textured ceilings that have bumps in them to create a raised feeling. This technique started in the 1930s and has come and gone in today's trends.
Why should I remove my popcorn ceiling?
If you are looking to have a modern feel in your home having clean smooth ceilings help you get there. Removing the popcorn texture brings a clean and smooth aesthetic to your home that incorporating new flooring and paint can increase your home's modern feel.
How we remove your Popcorn ceiling
Popcorn removal is a very messy job.  We take the appropriate steps to protect any belongings in rooms before performing any work. This includes covering walls, floors, and any household items. Once the popcorn has been removed we perform any necessary drywall repairs, skim and sand the ceiling for a smooth, modern look.
Asbestos Warning!
If your home was textured anywhere from 1945 to at least 1980, there is a chance your popcorn ceiling contains asbestos.  Patch Pros is not licensed to remove asbestos.