Patch Pros Flooring Services In The Capital Region
What are Flooring Services?
Flooring services for Patch Pros are focused on laminate panels that don't require glue or nails. Our professional service allows for an easy installation with the best results.
Laminate Flooring
Laminate flooring is made with the by-products of wood, creating particle boards, with a layer of printed design and a transparent plastic wear layer. It can be made to give a more realistic feel with grooves for wood, ceramic, or tile.
Great to use in:
Dining Room

Living Room

Bedroom

Home Office
Waterproof Vinyl
Vinyl flooring is made of 100% synthetic materials and although it can be made to look realistic it does not beat laminate flooring with appearance. But on the other hand vinyl flooring works better than laminate flooring for heat resistance and waterproofing.
Great to use in:
Mudroom

Bathroom, Full or Partial

Powder Room

Kitchens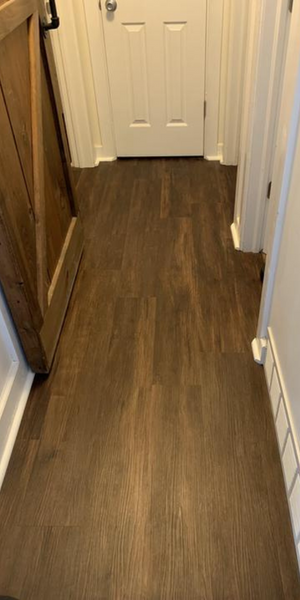 Laminate Flooring Installation & Waterproof Vinyl
Laminate Flooring can be installed on plywood, concrete, vinyl, and tile.  Before installing onto any of these surfaces, it's important to do any repairs necessary (such as unlevel floors, loose tiles, etc.) before installing the flooring.
If there is base molding around the perimeter of the room, it is also recommended to carefully remove the molding so it can be reinstalled after the floors are done.  Sometimes removing base molding can be avoided entirely by installing shoe or quarter round molding after the floors have been installed.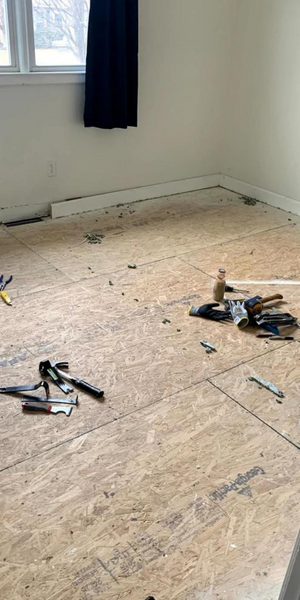 Carpet Removal & Disposal
In addition to the installation of your new floors, we also provide carpet removal and disposal to clients.
Why do you need carpet removal?
As you may know, age is not our friend, this happens to be one of the reasons for carpet removal. If you have outdated carpets, carpets that have been in the house for years, or have had pets then your home may need to have its carpet removed. Yet those are not the only reasons, another one is that you want to change your floors to something else.
Our Carpet Removal and Disposal Process
Before beginning a carpet removal service, we first ask clients if they are willing to move any furniture from the room the night before or the morning of. If it is something you are not able to do, we'll move the furniture for you. Sometimes, larger items can be left inside a room while we do our entire flooring install.

Removing carpet is a relatively simple process. The only minor issues we have seen are common: Unlevel or squeaking floors or carpet tack strips stuck underneath the trim. Patch Pros will have the tools and supplies to get your flooring done right. We will cut out the carpet and carpet pad in large rolls and remove tack strips. For safely transporting from rooms and out of the home, we roll the tack strips into the old carpet.
Next, we remove any nails and staples left on the floor and do a detailed clean up ensuring the floors are dust-free for your flooring installation.
Patch Pros does not need to hire dumpster services - we have our own trailer and dumpster to keep costs low to the homeowners we serve.
After Patch Pros Carpet Removal
Once your carpet is removed, we are able to begin the flooring install.  Since vinyl and laminate are the new trends for homeowners, there are many different suppliers and types in the market.  If you are shopping for the flooring yourself, Patch Pros will provide the square footage of your floors during your free estimate.  
Keep in mind, some flooring cannot be installed directly over the subfloor and will require underlayment.  Patch Pros can provide the underlayment if needed.  Some flooring on the market is manufactured with an underlayment built into the flooring plank and does not require underlayment.
Why We Don't Install Over Carpet
Laminate flooring can be installed over carpets as well, however, it would require at least ¼" plywood to lay over the carpet to create a new subfloor.  In the past two years, lumber prices have increased 130% due to low supply and high demand.  Due to this, it's usually more cost-effective to remove the carpet than install it over it.
Patch Pros is committed to providing you a quality and worry-free installation on your new floors without breaking the bank.  If you're looking to update your floors and are unsure where to start, contact us today for your free estimate.