Drywall Installation In The Capital Region
Proper drywall installation starts with knowing the right products to use depending on a homeowners' situation. That is why it is important to work with a professional.
Why Choose a Professional Drywall Contractor?
After years in the industry, I've met many homeowners that have attempted to install drywall, tape, and mud joints themselves that have been unhappy with the outcome.  It's important to hire a drywall company that knows the industry, has the proper tools, knows the different materials, and has the skills to achieve the best look for your home.
Patch Pros has invested in advanced tools to be able to provide competitive pricing in the industry.  The drywall industry has advanced dramatically in the past 30 years, providing drywall companies with more advanced tools, such as collated screw guns, drywall lifts, magnetic cut-out tools, automatic tapers, flat boxes, and dustless sanders.  Having tools like these, we're able to get work done faster and more efficiently.
Drywall companies have spent a lot of time estimating the number of materials and the type of materials that work best for any given job.  We have the experience in using the materials as well, knowing certain methods or "tricks of the trade" that assist us in creating a better fit or finish.
Many homeowners do not realize the amount of effort that goes into drywall installation, taping, mudding, and sanding.  Patch Pros has years of experience to get the job done to your satisfaction – so you can dedicate your time with family, work, or accomplishing other tasks.
Drywall is a type of board that is made from plaster, to make installation more efficient.  Many years ago, walls were done using plaster and lathe.  Drywall is lightweight, allows easy cutting, and is much easier to work with!
What Types Of Drywall Are There?
Standard
Standard drywall has no special features and is considered a basic type of drywall.
Mold Resistant
Mold Resistant drywall is constructed with a paperless backing and has a special coating to help prevent the build-up of mold in moist or humid areas.
Moisture Resistant 
Moisture-resistant drywall is very similar to mold-resistant drywall and this is great for humid and moist rooms. To ensure the best use of this material use cement backer boards. 
Fire Resistant 
Made with glass fibers in an extra-thick design fire-resistant drywall and is used to prevent the spread of fires, create less smoke and provide better sound control between rooms.
Sound Resistant  
Made to reduce noise from traveling between walls soundproof drywall is thicker than most standard drywall sheets and often has two gypsum layers that are glued together with a special
noise-dampening adhesive.
What are Drywall Thicknesses?
Drywall comes in a variety of thickness, this depends on the job and what you are looking for the thicknesses include:
When determining the size or how many panels of sheetrock to use, Patch Pros takes precise measurements in order to find the best fit for your home. 
While the standard sheet of drywall is 4ft x 8ft, there are times when using longer sizes such as 4×10 or 4×12 may work best. Each piece of drywall can be cut to shape or fit different areas that need smaller sections done.
Where Should Types of Drywall be used?
Standard
Interior Walls 

Ceilings

Finishing basements. 
Mold Resistant
Moisture Resistant 
Bathrooms

Basements

Kitchens

Laundry rooms 

Utility rooms
Fire Resistant 
Utility rooms

Garages 

Areas near a furnace or wood stove
Sound Resistant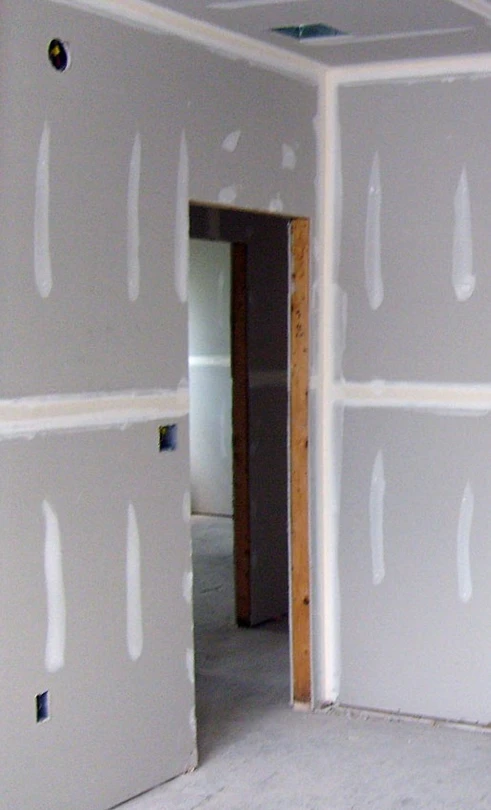 How Do I Know I Need New Drywall?
Many times you will know if new drywall is needed when the drywall gets damaged. Damaged drywall can be caused by a variety of things but it is not the only case for drywall installation. Drywall installation may be needed when you are renovating your home, have unfinished areas in your home, or would like a different type of drywall installed for better use and protection.
How Does Patch Pros Install Drywall?
Patch Pros installs drywall using standard methods across the Drywall Industry.
To begin, we assess where the drywall is to be installed.  If we are installing drywall in an entire room, including the ceiling, we always begin with the ceiling first.  It is recommended to use either ½" or ⅝" thick drywall for ceilings. Next, we determine which type of drywall (as seen above) depending on the room it is to be installed.  Per manufacturer specifications, each standard sheet of drywall should have at least 32 drywall screws. Then, once the drywall is installed, we prepare the room for the mudding process by installing corner bead, L-Trim, and protecting floors with builders paper.  The mudding process consists of multiple coats of joint compound to ensure a smooth finish in the entire room.  We begin by embedding tape into the drywall joints and inside corners, and "floating" out the areas usually two or three times for a standard finish.

Finally, as soon as the compound is dry, we sand all of the areas under LED lighting to ensure no spots are missed.  Since dust is a huge concern for many homeowners (and a concern for myself), Patch Pros utilizes a dustless sanding attachment to a double-filtered shop vac to keep the dust to a bare minimum.